i am fortunate (or unfortunate) enough to work right across from an anthropologie. like many of its other stores, the store layout was beautiful and really difficult to explore without wanting to try anything. and, i confess, the last time i ever stepped foot into one was during my senior year of high school, and my only reason for being there was to purchase a birthday gift for my mother, which had been a scarf. also, considering i was then fond of many black items in my wardrobe, as well as sporting purple/pink highlights and smeared eyeliner, it was perhaps the most out-of-place i felt.
oh, how times have changed.
this time around, i tried on some things that would be nice for the spring season. i came out with two things, one i consider myself less partial to (an impulsive purchase but still usable item) and the other i was in love with the minute i tried it on.
the victoire bra. it is so pretty. i love the ruffle detail, in particular, and the tulle band in the back. and had i not checked the website, i wouldn't have realized the straps are detachable, which makes it that much better, in my opinion. it's one of those garments i could see myself wearing under something a bit more sheer or simply doing a lot of layering with for warmer days.
(a bit of a side note, but i will never not be in love with their classically simplistic logo. it's a bunch of letters in serif font, but the cleanliness of it is what makes it so attractive to me.)
i think i may be breaking my self-imposed cardinal rule of this blog by posting this really horribly recorded video of something (in lieu of a photograph) that doesn't seem nearly as amazing as it was last night. that's not to say it wasn't epic - and epic he did get, but by that time everything was surging in my bloodstream, and i was too fixated on the surreality of everything to have a conscious grip on my phone - just that anything but being in the moment does a disservice to this particular culture.
also, i'm pretty sure i maxed out my affection quota before the month even started. strangers with candy. hook, line, and sinker.
for those few hours of bliss, i thought of nothing else - which is a nice reprieve, considering how many things i'm angsting over (much love for my sister for the official induction). how incredibly lovely. i may or may not have been drug-infused with love for the boy and his light manipulation. oh, what the hell am i saying? i was punch-drunk in love with anyone giving me a light show. and that's what i'm finding i like about rave culture - that you can feel and share love fairly liberally, and it's not necessarily the kind of love we're familiar with but sort of an easiness that comes naturally that doesn't root you to the significance of that word.
i'm not trying to lessen the concept of love - to each their own - but i like it when things are simple.
the best thing and what i loved most about the experience was the sensory immersion. i can safely admit that i am a hands-on sort of person, in general, but i'm very withdrawn and extremely selective about it, so it was nice to be so uninhibited and expressive in ways that i'd be wary of doing otherwise.
in which i complain to my friend about my startling revelation:
« i should be doubled over in pain by now. »

« what? »

« i don't work out regularly. i should be rag doll material. i need to feel the buuuuurn. pain is delicious. » sometimes i text the way i imagine i'd say it aloud. this tends to result in obnoxious vowel elongations.

« your [sic] nasty. » my friend isn't grammar-friendly. it's like a disease. « you been working out your muscles n other ways? »

« … oh you are so funny. »

« yea i think so too »
s m h.
i have to do this consistently for three months, and i'm under the heavily mistaken assumption that i will learn to like it after that. maybe i would if my body would continue to scream bloody murder at me and insist i die in a fire. nothing more refreshing than slugging through sore muscles, i'm just saying. i mean, how else would you benefit from regular workouts? a flood of endorphins and looking amazing? psh, please.
(no, but seriously, i have to get my shit together.)
by the way, i've lived in this community for roughly ten years. you'd think the president of this truman-esque village would've been able to afford a treadmill already. geez. no one cares about the stairmaster; replace it!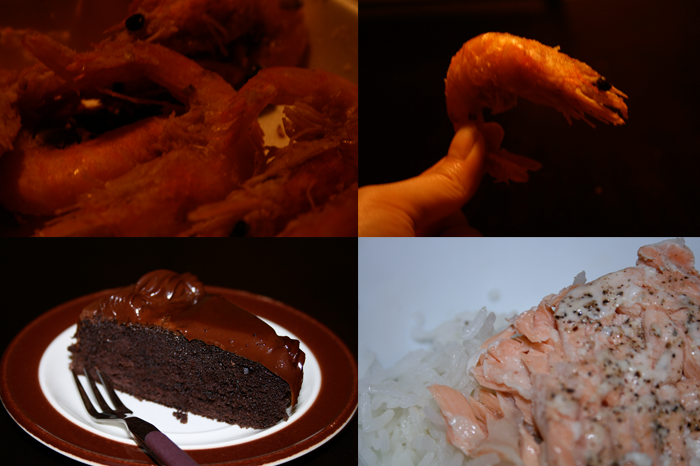 "please tell me you're not taking a picture of that," my mom said, staring in horror as i focused my lens on the pile of fried deliciousness.
um, yes. yes, i am. and then they're going to find their way into my mouth and into my happy stomach.
a few minutes later, as i held one of the shelled critters between my fingers, she asked me what i planned on doing. i told her i wanted to talk about how weird they were, and by "talk," i meant "i am going to share my musings on the internet because i can," but she probably assumed i was going to talk to my friends about how awkward it is to have your food stare back at you as you're prepared to behead it and rip off its legs.
yummy.
here's the thing: i like to write about stuff a lot. it's the same reason why i have a twitter - to get rid of any excess thought i might have so i can spare anyone i end up conversing with the uninteresting psychobabble i'd otherwise build up if i didn't express them somehow during the day.
i have, what you might say, an intermittent interest in things. it's why i have trouble with the act of maintaining, um, a broad spectrum of stuff. i'm not entirely sure what this has to do with anything. swear to god, if i wrote everything that goes through my head exactly as it's happening, none of this would make any frydoodle of sense. kind of makes me wonder if this is why i look vacant when i'm not being stimulated.
my training as an espresso-serving slave monkey - and by "slave monkey," i mean "i totally enjoy what i'm doing thus far" sans any hint of sarcasm - was cancelled today. turned out i could have been productive about things today, but i ended up doing my hair and passing out shortly afterwards. i mean, there were probably other things, but i probably shouldn't be mentioning that.
oh hey, oranges. nom.
if 2012 were a person, it would be the sort of individual you have this huge and messy fallout with and vow never to see again because they were so toxic. except one day you're walking down a quaint boulevard and bump into them. maybe you're carrying a drink, and it spills over the both of you, and somehow the two of you are scrambling to be helpful towards each other, and everything falls into a pattern of familiarity. you'll walk side-by-side, physical movements amusingly synchronized, while the both of you laugh good-naturedly about the events that led you here.

it might say, "hey, remember that time-"

and you interrupt it because it's looking properly abashed and rightly so.

"oh yeah," you say. "i wanted to punch you once, but you were never around when i needed to. so i pretended you were my pillow and beat the absolute shit out of you."

it laughs. "and now?"

you shrug. "still want to pummel you. just without the hostility. i want to because i never got to, you know? but things turned out all right, so it's okay."

and if 2012 were a person, it would nod and agree with you. maybe in an attempt to seek absolution, it'll give you permission to bruise it just a little. "for all the things that turned out wrong," it says. but you shake your head and pat it comfortingly on the shoulder, tell it you'll be around and not to be a stranger.

you know better. you'll never see it again, and that's just fine with you.
2012 has been that year so far. i'm developing some kind of love/hate relationship with it. i mean, for every bad, i can spot the good, but sometimes i'm just really short-sighted and refuse to focus on what i can learn from this. instead i run away, leaving things that i'll eventually have to come back to and confront. unfinished business - who needs 'em? let's just pile them up somewhere.
life is just messy - like my room that's actually not my room (oh god, the clutter). everything is in disarray, and i've just dropped my life here in the meantime while i figure out a better alternative, which will consist of all my successes and learned mistakes.
i want something new, but i'm not sure what it is i want. i have the outline, but the details are smudged and constantly changing. but it's okay because i'll figure it out - hopefully sooner rather than later.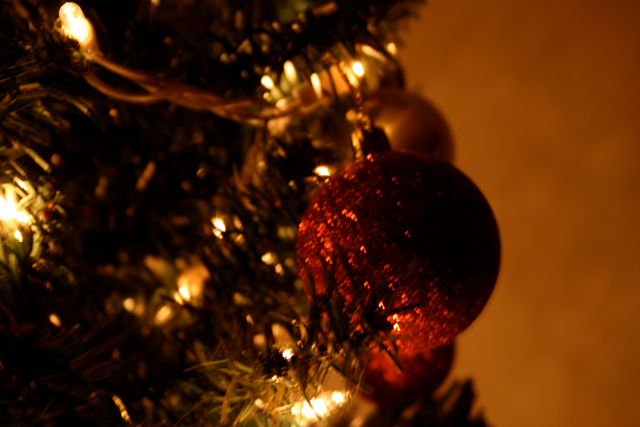 what to say about the holidays.
i have no idea. it's not typically a season that excites me like it does for most people. for the most part, i think i feed off others' anticipation and enthusiasm, but it tends to drain itself out when i think i've given it enough time. my fondness for the holidays includes - and is limited to - the lights and putting together gifts and cards for people. maybe, too, the concept of the winter holidays: hot chocolate, scarves - the act of staying warm. those are nice.
one thing i'd probably take away from the latter half of this year is learning to be more open with people - learning to communicate, to give more trust away than what i'm actually comfortable giving, i guess. it's not the easiest thing i've done, and the progress i've made in this is fairly minuscule in the grand scheme of things, but at least i've started the motions. i think when even your own family complains that you're too private, too secretive … it gets to you after a while.
so baby steps, among other things i need to learn. the wintertime and all its bells and whistles is nice and all, but i think i'm ready for the new year.
one person missing in action, and that's because his pictures always came out blurry.
my bedroom as a work-in-progress throughout the weekend and the things in between. this past weekend was comprised of a lot of movement and the transportation of many heavy things, and i am finally relieved that it is mostly over. i need to get rid of some garbage, add accents here and there, and only then will it feel complete, but that'll probably happen gradually within the next couple of weeks.
there are certain issues at hand that i need to seriously contemplate while i unwind, though. i'd say 3/4th of the problem is personal, and 1/4th is dealing with everyone else. the result of my "departure," which isn't even official until december (because i do make a regular trek to the outlook* in the middle of the week) is causing a disturbance in the family pool. i don't know, it's kind of ridiculous.
all i can hope for is that i am capable of doing this, that certain people can learn to accept it, and that things, in general, right themselves the way they should be.

—
* the outlook = my former home, based on the street address; otherwise, i'd have trouble distinguishing it from my current residence